SHAMS
Pension consists of 9 cottages. Each cottage is designed for 5 persons: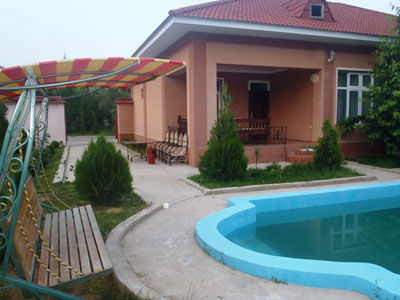 2 bedroom standard class with twin beds (can be combined)
room with upholstered furniture (sofa, two armchairs, satellite TV)
kitchen, furnished with appliances and utensils for cooking
shower, toilet
Every cottage belongs to a closed area with a summer terrace, couch, with a swimming pool, sun loungers, swings, as well as places for the cauldron.
entertainment
adult and children's water parks
shared pool
playground with swings
table tennis
billiards
summer veranda
deckchairs on the coast of the river Ugam
Anyone can ride on a catamaran (Extra Charge)
This is a great place to rest and birthdays, corporate and other celebrations!