Turkey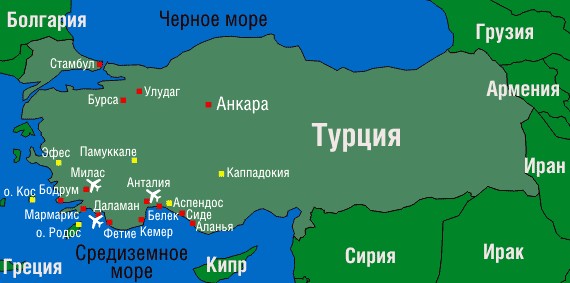 Turkey
Capital - Ankara (Ankara),
Major cities: Istanbul, Izmir, Adana, Bursa, Erzurum.
The main regions of Turkey:
Antalia coast
traditional beach resorts: Antalya (Lara Kundu), Kemer (Beldibi, Goynuk, Chamyuva, Kiris, Tekirova), Belek, Side (Colakli, Kumköy, Sorgun, Kizilagac and Kizilot), Alan (Incekum, Konakli, Avsallar, Okurcalar, Alanya ), Bogazkent
atypical Beach Turkey or beach + "ekskursionka": Kas Olympos, Kekova, Demre, Patara, Cirali
tours of the city
- "phony", where you can go in and tomchisle yourself: Aspendos, Adana, Termessos, dates, Mersin, Manavgat
Aegean Coast of Turkey:
traditional beach resorts in Marmaris (Icmeler and Turunc), Fethiye (and Calis Oludeniz bay), Bodrum (Gumbet, Bitez, Ortakent, Akyarlar, Turgutreis Yalikavak Geltyurkbyukyu, Torba, Gumusluk), Kusadasi, Sarigerme
beach + "ekskursionka": Dalyan, Cesme
tours of the city - "ephemeral": Ephesus, Assos, Troy, Izmir, Bergama, Didyma, Dalaman, Miletus, Canakkale
Black Sea coast, where so love to relax the Turks themselves:
a major port and just interesting city of Trabzon, Safranbolu landmarks level UNESCO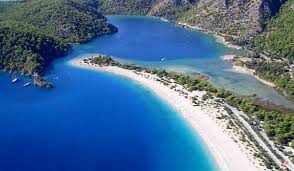 Cappadocia with its seven-story cave monasteries and ancient Christian holy places:
Nevsehir, Goreme, Urgup, uscheleIhlara, DerinkuyuiKaymakly
Solar Turkey eaves sides by the seas: Black -c north of Marmara and the Aegean - in the west and the Mediterranean Sea, to the south, and
excellent beaches there, wherever there is water.
On the Turkish coast beaches can be found almost all kinds of sandy beaches and is a Belek and Side, and rocky coves of Kemer and Antalya. On the beaches of the Aegean Sea is dominated by a pebble. In addition, almost one hundred plyazhamTurtsii awarded the "Blue Flag".
GMT +02: 00 GMT
The official language is Turkish. Widespread English and German, in the resort area - spoken Russian.
Documents for citizens of Uzbekistan
For citizens of Uzbekistan, Turkey - a country visa-free entry (for up to 30 days).
The necessary documents to travel to Turkey:
A valid passport with a visa oVIRa (official stamp on registration);
Hotel voucher;
Round trip tickets.
The presence of 2,000 USD (with the presence of the specified amount on a plastic card is not a reason to enter Turkey)
The Turkish Embassy in Uzbekistan
Address: ul. Gulyamova 87, Tashkent
Phone: (+998 71) 113-03-00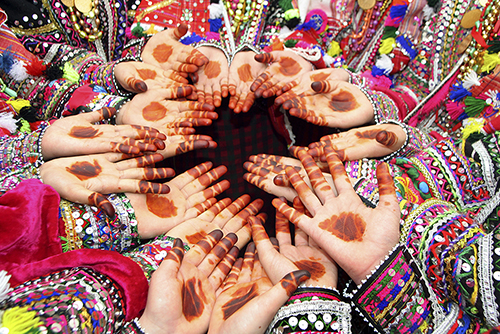 population
The main population of the country by the Turks. In the days of the Ottoman Empire that people use self Ottomans tour.
It should be noted that in Turkey for decades pursued a policy Turkishizing population. Therefore, to calculate the number of ethnic groups, even approximately, is very difficult. According to different estimates of the Kurds in Turkey from 6.5 million. The country has a large number of Crimean Tatars (estimated from 500,000 to 5,000,000)
currency
Turkish lira. Almost all the shops and restaurants accept dollars and euros. You can exchange money everywhere. Exchange traveler's checks and currency are banks, exchange offices, travel agencies and hotels. Import of currency in the country is not limited, but the Turkish lira can bring or take no more than eq. 1.000 $ USA.
climate
The climate in Turkey varies by region. The west and south, dominated by the Mediterranean climate, the summer months are hot and dry, and winter - mild. Therefore, Antalya and the surrounding region, characterized by hot summers, called the Turkish Riviera. On the inner uplands dominated by continental climate with hot summers and cold, snowy winters. In the eastern parts of the country is dominated by sharply continental climate, on the Black Sea coast due to the mountainous terrain much rain falls. Temperature on the south coast allows to swim from April to October. West Coast is different constant heat. In Istanbul, the climate is mild, the sky is often overcast, the average winter temperature is +4 ° C, in summer +27 ° C. On the Antalya coast sredizemnomorskiyklimat prevails with average temperatures +9 ° C in winter +29 ° C in summer. The best time to travel to ski resorts - from mid-December to mid-April. .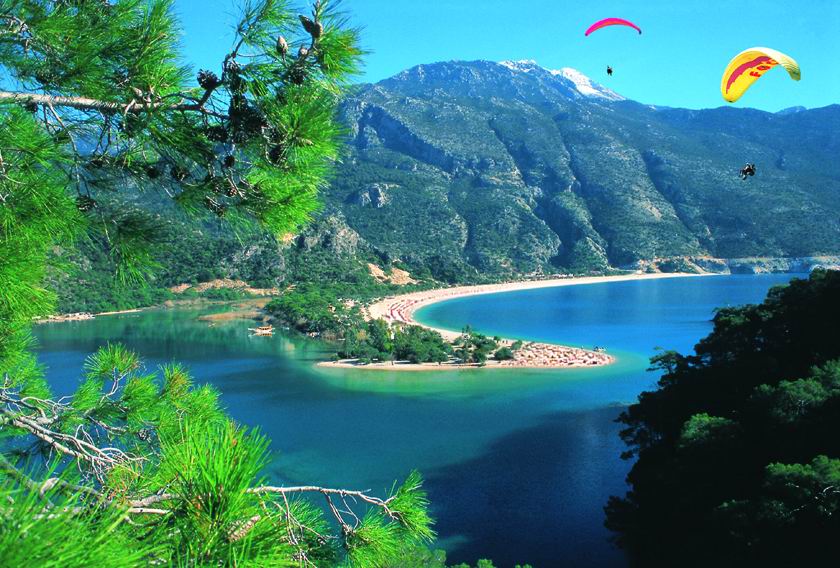 Throughout the country, the average January temperature ranges from +5 to + 15 ° C, in July from +15 to + 32 ° C. In the resort area 300 days a year shines the hot sun, so even if you are already a little tanned home recommened to use protective creams with UVA-UVB factor of not less than 15-20, and do not forget about them until the last days of your holiday.


How to get there
Flights to Istanbul izTashkenta made almost daily flights -regular national avikompanii Uzbekistan Airways. Takzheletayut summer charters to Antalya and Bodrum. In addition, there are regular flights "Turkish Airlines" with a mandatory connection in Istanbul in almost all major cities of the country. Time of flight - 6 -8 hours depending on the direction.
Antalya Airport fly through the following resorts: Antalya, Kemer, Belek, Side, Alanya.
Through Dalaman Airport to Marmaris, Icmeler, Fethiye and Bodrum.
Fly to Izmir to rest in Kusadasi.
Nuance dock in Istanbul: Part flights "Turetskihavialiny" arrives at the airport "Sabiha Gokcen," part-of "Ataturk". Booking a connecting flight, it is important to calculate the time taking into account the fact that from the "Sabiha" to "Ataturk" ride for about an hour (if no traffic jams)....
transport
Move between gorodamiTurtsii most convenient bus -large "tourist" or conditioned mini-buses - "dolmus". The first run on a schedule and offer the level of service up to the "luxury", and at popular destinations are advised to reserve tickets in advance. The second great resemble our "bus" and touches the road, when all the seats are filled; about any - any comfort in them, except seats, can not speak. But "dolmushi" ply mezhdusovsem even small towns where there are no large buses. GorodamTurtsii can move on and namunitsipalnyh buses Tickets are sold at newsstands (about 0,5 USD), it is necessary to buy them in advance.
Trains "Turkish zheleznyhdorog" it makes sense to move for several popular routes, for example, to get from Istanbul to Ankara. In other cases, the traveler will face transplant uncomfortable docks and the need to make a big detour to get to your destination.
Finally, the long distances within the country could be overcome by plane: Flights TurkishAirlines, OnurAir, Pegasus Airlines and Atlasjet connect the major cities of the country, abilety sold at quite a reasonable price.
To rent a car, you must have a driver's license, collateral in the form of cash or credit card (though the vast majority of their services Items not) and be over 21 years old. Vehicles can be taken for as low as USD 50 per day in the rental price includes his service to the hotel and insurance. The machine is issued with a full tank, in the same condition it should be and return.
Behind the wheel can not talk on a cell phone without a hands-free. Seat belts are mandatory for all passengers. The maximum allowable amount of alcohol in krovi- 0.05 g / L (and in fact, sitting behind the wheel, it is wiser not to drink alcohol at all, and not only in Turkey).
Food and water
Turkish cuisine is known throughout the world and is famous for its diversity, intricately combining samples of culinary arts peoples for millennia these ancient inhabited the territory. In countless restaurants and cafes, you can choose a dish for every taste. The variety of hot and cold appetizers, meat, fish and vegetable dishes will shake even the most experienced in the food tourist. For the sweet tooth there is a real paradise. Relatively Turkish dishes foreigner there should be no fear. On the contrary, popular with chefs and restaurant patrons food, such as chips or cooled solid steak, almost always helpful. In Turkish cuisine does not use any products unknown to us, it is usually not full of spices (except meals South Anatolia).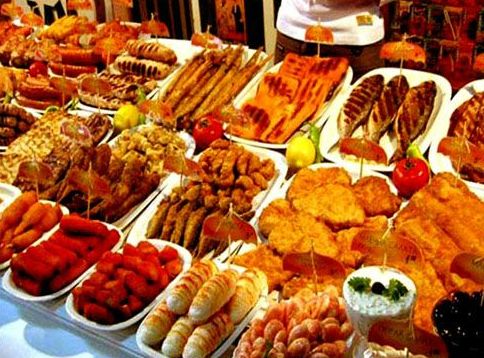 Speaking about the virtues of cuisine can not fail to mention the drinks. Wherever you come, you will definitely offer authentic Turkish coffee and tea. On a hot day ayran - yogurt, diluted with water - will save you from thirst, and dinner nice to try a glass of Turkish wine, white or red, in order to understand the charm of our Crimean wines.
Catering in Turkey are divided into restaurants, where throughout the day you can get a hot dish like thick soup, and restaurants (kebab salons), which does not serve soups and vegetable dishes, but there is every kind of hot. Menu offer is not accepted, but everyone can go to the kitchen and choose a dish to taste (but in a resort area often as usual).
Rules of Conduct In general, Turkey -Security country. In all the resort places you can walk without any risk at any time of the day or night. The only thing that really should be afraid of, it's theft of small items (eg mobile phones) or money. Money, documents and valuables should be stored in the vaults, as a precaution Hotels is not responsible for valuables left in the rooms. Safe lease costs 1-3 USD a day, and in many hotels and all offered free of charge.
You can not insult the memory of Ataturk - the first president of Turkey. You should not disrespect to the relics and things that have public value, such as money and flag. At the entrance to the mosque have to take off your shoes, women should cover their heads and a long skirt, or can not admit. You should not take pictures of women in black robes and all men without their consent. Eating on the street and in public places of spirits (even beer) in some cases may cause disapproval
Many traditional forms of communication between people is rooted in Islam. Religious greeting formula, good wishes and other manifestations of exaggerated politeness still play an important role even in the cities. Turks differ courtesy, helpfulness and honesty. However, communicating with them, do not be haste and impatience. Every business discussion must begin with a few general phrases, for example, to tell where you come from, where you are going. Attaches great importance to etiquette.
A few words in Turkish often open to any foreigner door. Restraint and respect are required when visiting a mosque, it is best to inspect it when there is no service. At the entrance to the mosque, in a house or apartment Turk supposed to remove their shoes.
A lack of understanding, and sometimes resentment meets passion tourists to photograph, especially in rural areas. However, in most cases a friendly glance, a gesture, or a question, to get permission to shoot.
When shopping, keep in mind that most stores are fixed prices. At the market as it is quite possible to bargain about the price of the carpet or copper products: here is part of the shopping ritual.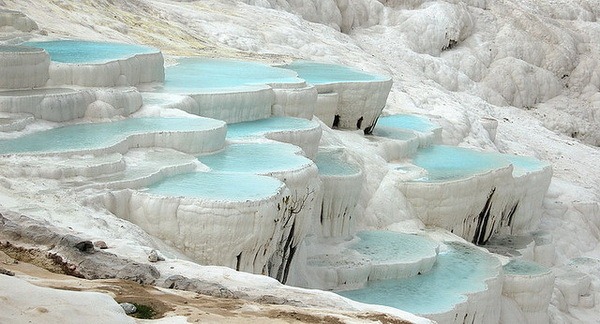 Nature and animals
Ecological diversity of Turkey are not observed in any other country in the world! Combining the features inherent in the three ancient continents of the world - Europe, Africa and Asia - Turkey landscapes like the beautiful Turkish carpet with its unique designs.
You will win the beauty of the majestic mountains of Taurus, the foot of which is covered by dense shrubs lemur, laurel trees and green thyme. Flamingo on the Aegean and Mediterranean twist themselves nests in the river valleys, and the winter is carried out on the salt lakes of the foothills. On the south coast, timid and cutest in the world of sea turtles lay their eggs each year, giving birth to a new generation....
Turkey is surrounded on three sides by the sea. Marine waters are rich in fish. In coastal cities fish and other seafood - lobster, lobster, shrimp, mussels variety of tables. Tulips, as in England, in Turkey too popular. They decorate with bright colors, during its flowering, endless plains. Diversity and abundance grown in Turkey fruits and vegetables defies description. Widely spread throughout the beautiful gardens of orange, tangerine, lemon and pomegranate trees. Turkey is home to such well-known fruits like cherries, apricots, almonds and figs.
religion
98% of Turkey's population - Muslims, ie profess Islam - a religion created by the Prophet Mohammed. Muslims have to pray 5 times a day, fasting during the holy Ramadan. The most important religious holidays - Ramadan and Kubran Bayran. Turkey - a secular state, ie, separation of religion and state, but, despite this, many areas of life imbued with Islam.
Religious Holidays in Turkey:
January 10 - February 8 - Ramadan (fasting)
February 9 - February 11 - Seker Bayram
April 17 - April 21 - Kurban Bayram.
In addition to the Muslims living in Turkey Greek, Armenian and Syrian Orthodox Christians and Jews. Religious intolerance is not characteristic
sanitary standards
In Turkey, you can not drink the tap water. Inexpensive bottled water sold anywhere.
relationship
Most hotels include telephones, which acts either through soedenitel or by direct communication. Also in the streets and post offices have public payphones. In the phone booth are tokens and phone cards, which you can buy at the post office.
tourism
Today, Turkey is more than ever, serves as a bridge between East and West. Initially, tourism in Turkey focusing almost exclusively in the areas of Istanbul, Marmara and Aegean seas, but recently attracted vacationers beaches of the South coast of Turkey. Nowhere in the world will not find such a variety of cultures in Asia Minor. Hittites, Urartu, Phrygians, Greeks, Romans, Byzantines, Georgians, Armenians left behind temples, tombs, theaters, churches, mosques and palaces. Most of the territory of Turkey bordering the Sea: Black in the north, the Marmara and the Aegean in the west and the Mediterranean to the south.
Istanbul has a population of almost 6.6 million. People - the largest city, the largest port and a major industrial and economic center of the country. Although the capital in 1923 was transferred to Ankara, Istanbul still remains the center of cultural and spiritual life of Turkey.
tip
Turkey is customary to leave a tip. Size of the tip depends on you have to provide the service. Typically, the tip is 10% of the bill. You can leave a tip waiters and hotel employees. You can also thank the maid, clean up your room, the driver of the bus, which help you to immerse your luggage. Remembering Russian `zabyvchivost` past often reminded of this.