Pyramid (Chorvoq Oromgohi)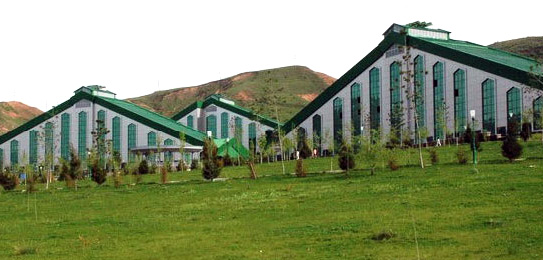 It is located on the territory of Chimgan-Charvak resort and recreational area (80 km from Tashkent) on the shore of the Charvak reservoir, surrounded by a chain of high mountains and hills. Merger of three mountain rivers Chatkal, Kok-Su and Pskem combined with a dam forming Lake Charvak. Nature itself created a magnificent picture of the landscape of the natural landscape, clean air, and the man added it by building on the site a new facility for rest and recovery.
And you, dear guest, it remains only a nice choice of either a furnished sunbathing on the beaches, or go on a fascinating hike along the mountain paths, immersed in lush greenery.
On the territory of the health center at your disposal are the following facilities:
Basic housing accommodation, consisting of three blocks of pyramidal form, where there is 208 rooms of different categories, a restaurant, bars, a disco, a business center, conference room, internet access, sauna, gym, medical center.
The staff of the complex "Charvak Oromgohi" will do everything possible to stay left in your memory for a memorable vacation on the lake. The staff and management of the complex sincerely hope that you will enjoy comfortable rooms, service level, as well as excellent natural conditions, reflecting the unique resort "Charvak Oromgohi".
Room amenities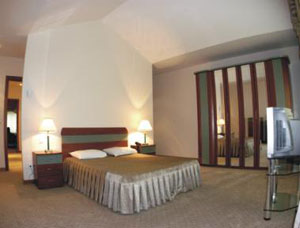 The rooms, decorated in a contemporary style and sustained tones;
12-channel satellite TV;
The wide windows with natural daylight and double glazing;
The heating system (in winter) and air conditioning (in summer);
Phone;
Non-smoking rooms;
Room service;
Bathroom with marble;
Mirror (cosmetic).
Hotel Services
The department reception (Administration)
The staff speaks several languages;
Laundry service;
Reservations.
Sauna
Sauna located on the first floor of a "B" unit;
Massage;
Hall, equipped with TV and table tennis;
Bar.
Wellness
The physiotherapy room in the complex provides the following services:
Electrotherapy;
Ultrasound therapy;
Laser therapy;
Magnetic therapy;
Shower Charcot;
Lymphatic drainage;
Phytobar.
Business center
Computers with Internet access;
Services for print on the printer and photocopy;
Recent newspaper.
Conference hall
4 meeting rooms, each with a capacity of 50 people (size - 90 square meters (15m x 6m), with the placement of tables and chairs in a class);
Conference hall for 300 persons (size - 320 square meters (20m X 16m) + 75 m size of the stage);
Rooms are equipped with audio-visual equipment;
Ability to organize coffee breaks.
Pools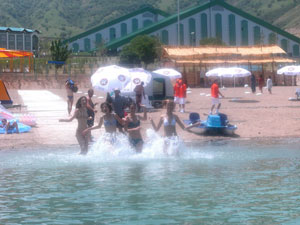 Children's pool and swimming pool for adults (size of 25 m x 12 m);
Summer pool (for residents - free of charge).
New bowling center
The newest equipment Qubica AMF 90XLi;
8 tracks;
Bumpers for beginners;
Up to 6 players on one lane.
billiard room
Summer Amphitheatre
For the discos and other events in the open air.
Sandy beaches
Their length of 800 m along the shore of the reservoir, equipped with changing cabins, showers points, toilets, sunshades, drinking fountains.
Hire offices
You can rent deck chairs with beach umbrellas, life buoys and jackets, sports equipment and other attributes of relaxing on the beach. At the coast, in the designated areas, you can rent a catamaran ride on a boat or jet ski.
Playgrounds
Playgrounds for volleyball, badminton and mini football will be attractive to those who prefer active recreation. Also located on site offers a lot of outlets for the sale of soft drinks.
Playground
With attractions for children, ice cream and so on.
Parking
To park cars, which are designed specifically for the convenience of visitors.
Room rates
| | |
| --- | --- |
| Type of number | |
| Standart | 250 000 |
| Junior | 300 000 |
| Lux | 400 000 |
| VIP (Double) | 600 000 |
Check in at 14:00.
Departure at 12:00.
The room rate includes breakfast.
Children under 3 years - free of charge.
Children under 12 years of food and extra bed 50% of the payment.
Additional services
| | |
| --- | --- |
| conferences / catering | |
| Conference hall (for 30-50 people). Only the screen and flipchart | 140 000 |
| Conference hall (for 50-70 people). | 180 000 |
| Conference hall (for 350 people). | 500 000 |
| Coffee break (for 1 person) | 11 000 |
| Lunch (per person.) | 28 000 |
| Dinner (per person). | 25 000 |
| Breakfast (per person). | 17 000 |
| | |
| --- | --- |
| Additional costs | |
| Indoor swimming pool (1 hour per person) | 20 000 |
| Bowling (lane per hour) - 19.00 | 36 000 |
| Bowling (lane per hour) - from 19.00 to 02.00 | 46 000 |
| Access | 5 000 |
| Entrance to parking | 5 000 |