Epson Villa
The unique location of the recreation area, alpine climate with clean air attract tourists. The recreation area "Epson Villa" is beautiful in all seasons: winter and early spring - a mecca for lovers of snow-capped peaks and pure ozonized air in the summer, this area amazes with its natural beauty and amazing mountain scenery all those who prefer to spend their vacation actively, for the benefit of health.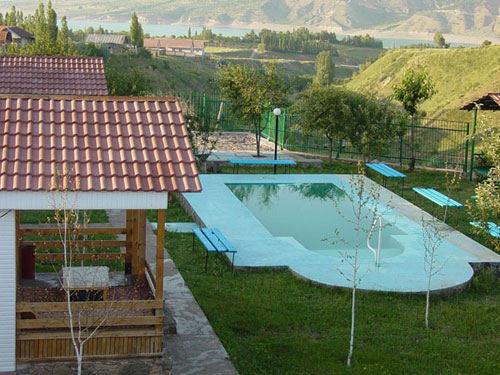 On the territory of «Epson Villa» There are 4 four-bed cottage with all the amenities. About each cottage includes a children's pool, a couch, a gazebo and barbecue area.
Click to view enlarged photos formateTakzhe at your disposal: swimming pool, playground and restaurant chefs, ready at any moment to prepare delicious dishes to your taste.
On the territory of «Epson Villa» guarded parking lot, with a special coating that protects your car from sunlight. Cleaning staff conducted cottages «Epson Villa» every 24 hours.
Nature lovers will appreciate the romantic descent to sai, from where you can start your journey to a small mountain expanses of Uzbekistan and plunge into the mountain river, filled with the power of nature, which will charge you with freshness and health for the whole year.
services
bath with hot and cold water,
wc,
satellite TV,
summer pool,
playground,
restaurant
gazebos,
summer kitchen,
shooting,
barbecue area.